Linguine alle Vongole Rosso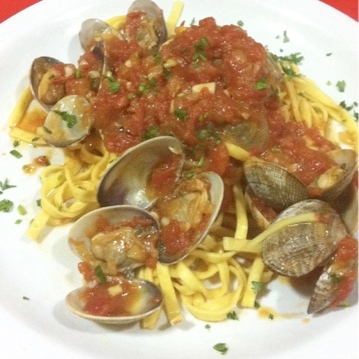 Ingredients
5 oz of pasta
2 tablespoons of olive oil
2,3 pieces of garlic
a little bit of italian parsley
a half cup of white wine 
a half pound of clam
a half cup of broth
One cup of Tomato sauce
1: Soak clam in cold water for a half day to drain sand out
2: When you boil pasta, you should use a big pod and a lot of water. Pasta should be ready at the same time as sauce is cooked. The timing is very important. If you feel difficult, lets get sauce done first, and then mix al dente pasta with its sauce.
3: Lightly crush the garlic clove and heat with the pure olive oil in a large nonreactive sauté pan with a lid over medium heat. When the garlic starts to sizzle, gently shake and tilt the pan so the clove is immersed and sizzling at one side of the pan in a pool of the oil. As the clove starts to turn golden, lay the pan flat on the burner so the oil covers the entire surface. It is important the clams are dry before adding them to the hot oil to avoid splattering.
4: Cook clam with garlic oil. When the temperature gets to the highest, flambe clam with white wine and make fire! wow! Put a cover over the pan and steam until clam opens up its shell.(cooking time depends on how big clam is)
5:After you make sure that clams are cooked, add tomato sauce and broth. If you want to enjoy seafood flavor, just add build water for pasta.
6: Add boiled pasta to the sauce and cook for about 1 minute. The sauce gets slight as cooking. This is called emulsification.Add salt if you need.
7: Add parsley for topping or whatever you want.
Bon Appétit